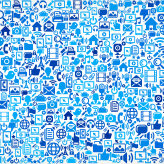 Are you making the most of your business's greatest assets? The data your employees and customers generate is an unsung hero, just waiting to take your business to the next level. Obviously, enough information can help any company make better decisions, but how can a small or medium-sized organization use data analysis to increase revenue?
Many businesses shy away from data analytics due to the perceived costs and resources required to get anything of value. However, even the most humble mom-and-pop stores and home-based entrepreneurs have access to a broad range of worthwhile information.
It doesn't make sense to spend half your week mired in spreadsheets and charts if you're not extracting information that helps increase revenue. Basic data analytics solutions from companies like Microsoft and Google offer solutions to streamline the collection and examination of company information. But with an array of different tools to choose from, what should you consider before investing in one?
How easy is it to use? There's no point investing in a dashboard solution if you don't understand the way the insights are presented. Analysis functions must be straightforward and user-friendly.
Are the results actionable? Great insights are worthless if applying them requires another staff member that you can't afford. Test drive an analytics solution before investing to ensure that its insights are easy to understand and apply.
Does it save you time? If you're already relying on data analysis for growth, your first priority should be boosting productivity. Look for solutions that will enable you to complete your current analytics tasks in less time.
Is it compatible with other apps? You need a solution that cuts down on manual data entry and doesn't add steps to any existing processes. Make sure any analytics software you're considering can integrate with your existing solutions before signing on the dotted line.
Whether your aim is to attract new customers, retain existing clients, expand your services, or decide on a new location, your data is an indispensable asset. It's there in good times and bad times, just waiting for you to take a closer look.
If you'd like to learn more about adding value to your business with data analysis, or want to explore data analysis software options, get in touch with us today – we'll be happy to recommend options based on your needs and requirements.
Published with permission from TechAdvisory.org.
Source.