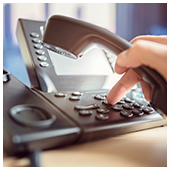 Because it is cost-effective, Voice over Internet Protocol (VoIP) is a popular choice today among small- and medium-sized businesses (SMBs) looking to upgrade their phone systems. But before you contact just any VoIP distributor, make sure you are dealing with a respectable and trustworthy one. Here is a checklist of the must-have qualities of a reputable VoIP distributor.
Highly trained technical support
A good VoIP distributor will provide some technical support before and after the sale. But a great VoIP distributor will offer highly skilled, well-trained, and certified support. Make sure your distributor's IT team has been trained on the latest advances in VoIP technology, and has obtained the appropriate certifications.
Provisioning capabilities
Provisioning means providing service to the user. This includes configuring the hardware and software so they work properly. Ask your potential distributor how many stations and ports they have available, and whether or not they offer custom provisioning packages.
API services
Check whether your VoIP distributor offers advanced Application Program Interface (API) services. An API is a set of routines, protocols, and tools for building software applications that specify how software components should interact. It helps streamline your ordering process and ensures your hardware will arrive correctly provisioned on your service platform.
Training programs
Before committing to any VoIP distributor, be sure to check their educational resources. How often do they offer webinars on new products? Do they provide training and educational materials on their websites and product portals? And check whether your VoIP distributor is willing to create custom training materials for you and your customers.
A VoIP distributor that offers a complete suite of telephony services helps you overcome your business's phone service obstacles and lets you better serve your customers. For more information, don't hesitate to get in touch with us.
Published with permission from TechAdvisory.org.
Source.