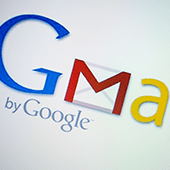 The first thing you'll notice in the new Gmail for web is its uncluttered look, but there's plenty more to be excited about. Greater security, easy-to-use sidebar apps and inline buttons, and more have been added to improve Gmail users' experience. Here's a quick rundown of all the features you need to start using now.
Confidential Mode
This feature lets you set an expiration date for your email after which it self-destructs. Sending mail on confidential mode doesn't just auto-eliminate them; it also prevents receivers from copying, forwarding or downloading the message and its attachments. A sender also has an option to set a password for a receiver to open the message.
Assistive Unsubscribing
Managing email remains a time drain for many business users, so the assistive unsubscribe function is a welcome addition. With this tool, users can easily unsubscribe from unwanted promotional mail or newsletters without having to open an email to do so. This feature recommends unsubscribing from particular senders based on whether you open their email frequently or rarely.
Snooze Mails
Like the 'Mark as Unread' function, snoozing email reminds you to read or reply to important messages. The clock icon that appears within the email is the snooze button, which allows senders to have an email redelivered at a later time. Users can snooze emails based on a pre-set date (Tomorrow, This Weekend, Next Week, Someday) or pick a specific date and time.
Sidebar Apps
On the right-hand side of the new Gmail is a sidebar that allows you to quickly access your Google Calendar, the new notes button, and Google Tasks. You also have an option to install Gmail add-ons from the G Suite Marketplace, which includes various productivity tools that integrate with Gmail.
Moreover, you can conveniently archive, delete, mark as read or unread, and snooze mail without having to check the box next to the mail, via the inline button. Just hover over the right-hand side of the email line and these buttons will appear.
Security
Users of the new Gmail will also benefit from an added security feature that warns them of potentially harmful email content, particularly spam. The risk warning text doesn't merely tell you of a possible risk but also offers an easy way out via a 'Delete Now' button, which lets users eliminate risky emails on the spot.
Other features include smart reply which lets you choose quick responses like 'Thanks for the mail' or 'Not interested' to reply to emails requiring you to respond to a meeting invite and similar messages; a nudging feature, which reminds users to respond to messages that haven't been replied to; and an offline mode, which allows users to search, create, and delete emails when they're not connected to the internet.
These and other seemingly minor Gmail updates will help you save time and manage your inbox more efficiently. For more productivity tips and recommendations, call our experts today.
Published with permission from TechAdvisory.org.
Source.