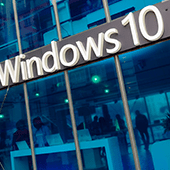 First things first, what should you do with your brand new laptop? You go through the Windows 10 setup, and you're all done, right? Not really. Your notebook isn't ready — until you do some tweaking. Let's get the ball rolling.
#1 Check for updates
Your new laptop should check for updates automatically, but you can also check manually. Just click the gear icon above the Start button to go to the Settings, choose Update & Security > Windows Update and then click the Check for updates button. (Or, just type "updates" into the search box and click Check for updates.)
#2 System restore
If something goes wrong with your laptop, you can save a lot of time and hassle if you have a "restore point," which is like a backup of your entire operating system. To set up a restore point, search for "restore" from the taskbar and click Create a restore point. You'll be taken to the System Protection tab of the System Properties window.
From there you can choose what you want to be included in the back and then click the Configure button. Select the radio dial to Turn on system protection if it's not already on. And then you can choose how much disk space to reserve, usually no more than 2 or 3 percent.
#3 Power plan
If you want to prolong your laptop's battery life, one of the best things you can do is switch the Power Saver, High Performance, and Balanced power plans based on your needs. To choose a plan, right click the battery icon in the lower-right corner of your screen and click Power settings. Next, click Additional power settings to select a power plan.
#4 App installation tolerance level
To restrict which apps can be installed on your laptop, you can disallow anything that isn't in the Windows Store. Go to Settings > Apps > Apps & features and you can choose whether to permit installations from only the Windows Store, any app installations (with a warning), or unrestricted app installations.
#5 Remove bloatware
Vendors package new laptops with lots of trial apps, which are mostly unnecessary and unwanted software called bloatware.
Windows 10 offers an easy way to see which apps are installed on your new laptop and a quick way to uninstall those you don't want. Head to Settings > Apps > Apps & features and peruse the list. If you don't want an app and are 100% certain your computer doesn't need it, click the Uninstall button.
#6 Anti-ransomware
Ransomware is a form of malicious software (or malware) that makes all your data inaccessible until you pay a fee to hackers.
To combat it, type 'Windows Defender Security Center' into the search bar at the bottom of your screen, click it and go to Virus & threat protection > Virus & threat protection settings. Here, you'll be able to enable a new option called Controlled folder access, which protects you against ransomware attacks. By default, the Desktop, Documents, Music, Pictures, and Videos folders are protected, but you can add others too.
Do you know what settings to change and update to optimize your laptop? This article barely scratches the surface of Window 10's security and efficiency settings. Call us today for quick chat with one of our Microsoft experts about taking yours to the next level.
Published with permission from TechAdvisory.org.
Source.