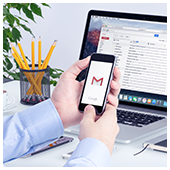 Twenty-four hours seem to pass by in the blink of an eye, especially if you're a small business owner. In order to stand a chance against the competition, the last thing you should do is bury yourself in a pile of endless emails. With the following Gmail tips and tricks, you'll spend less time with your inbox and more time driving business growth.
Undo Send
We've all had an email or two we wish we could take back. Gmail has a neat feature that gives you a short period of time to recall a mistakenly sent message. Simply click the Undo link that appears to the right of the "Your message has been sent" notification.
Canned Responses
Dubbed as "email for the truly lazy," Canned Responses is a new feature that allows you to save time and reuse an email that you designate as a Canned Response. Similar to an email template, it saves copious amounts of time since you won't have to retype the same responses over and over again. It comes in handy for businesses that send plenty of routine emails. To do this, go to Settings, open the Advanced tab, and enable Canned Responses (Templates).
Send large attachments with Google Drive
With Gmail, users can easily send attachments up to 25 MB. But say you have a huge zip file for a photo shoot that a client wants to review — you're going to need more space. If you use Google Drive with your Google account, you can send larger files in Gmail.
Copy the large file to your Google Drive, then click Compose in Gmail and type your message. When you're ready to attach the large file, click the Google Drive icon (next to the emoji icon that looks like a smiling face). Insert the files you want to attach and send your message.
Turn on Priority Inbox
Priority Inbox organizes your messages by their importance using machine learning. You'll be able to divide your inbox into five sections, where the messages will be displayed in the following order:
Important and unread messages
Starred messages
[Customizable section]
[Customizable section]
Everything else
To enable Priority Inbox, hover your mouse over the Inbox button in the upper left corner of the screen until a dropdown arrow appears. Click on it, and choose Priority Inbox.
Back up your messages
If you ever need to back up or migrate your Gmail messages, Gmvault can help. It's an open source solution that can back up your entire Gmail directory or just a handful of messages. The email data is then available whenever you need to restore or recreate your Gmail folders. You can also use it to migrate messages from one account to another.
Enable advanced settings
Configuring Gmail's Advanced Settings is an excellent way to increase email efficiency. Some of these features include Multiple Inboxes, Preview Pane, and custom keyboard shortcuts. Access them by going to Settings and clicking on the Advanced tab.
Spending the right amount of time with emails while managing other crucial business areas is a balancing act many business owners find difficult. If you have questions or need further assistance regarding Gmail or IT in general, feel free to contact us.
Published with permission from TechAdvisory.org.
Source.