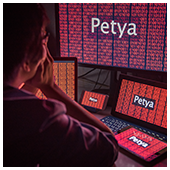 The WannaCry ransomware, which infected 200,000 business globally and made over $100,000 in ransom payments, is said to be one of the worst cyber attacks in history. However, a new ransomware strain named Nyetya is shaping up to be a more formidable security threat. It has already affected businesses globally, and security firms and researchers believe it to be stealthier and more sophisticated than WannaCry.
Worse than WannaCry
Nyetya is deemed worse than WannaCry mainly because it spreads laterally, meaning it targets computers within networks and affects even systems that have been patched. Because it also spreads internally, it needs to infect only one device to affect several others within a single network.
Cyber researchers trace its origins to a tax accounting software called MEDoc, which infected 12,500 systems in Ukraine. Since the initial infections in June, it has spread to thousands of networks in 64 countries. And although it hasn't spread as fast as WannaCry, it might have a wider reach soon because it uses three attack pathways to infect a system. It hasn't made as much money as WannaCry, which is why cyber researchers are concluding that the attacks are not economically motivated.
Don't pay the ransom
Cyber security firms and researchers strongly recommend affected businesses to avoid paying the ransom. According to them, paying the ransom would be a waste since the infected user won't be able to receive a decryption key to unlock their files or systems. This is because the email provider has blocked the email address on the ransomware message.
Although it operates like a ransomware — locking hard drives and files and demands a $300 ransom in Bitcoin — it functions more as a wiperware that aims to permanently wipe out data and/or destroy systems. So far, it has affected big-name multinationals in various industries, including Merck, Mondelez International, and AP Moller-Maersk, among others.
Perform backups and update outdated security patches
The only way businesses can be protected is by performing backups and staying on top of patch updates.
It's safe to say that in case of a Nyetya attack, there's no chance of getting back your data. In such a scenario, you would have only your backup files — whether on an external storage or in the cloud — to fall back on. But backing up is not enough; you should also ensure that your backups are working, which you can do by testing them regularly. Given the nature of Nyetya, you should also make sure that your backups are stored off-site and disconnected from your network.
Like its predecessor, Nyetya exploited vulnerabilities in unpatched Microsoft-run computers. As a business owner, make it a part of your cyber security routine to update your systems with the latest security patches, or risk having your files or systems permanently corrupted.
As a business owner whose operations' lifeline depends on critical files, your backups are your insurance. If your systems' network security needs another layer of protection, get in touch with us today.
Published with permission from TechAdvisory.org.
Source.